ABOUT US
Cambridge Weight Plan has a flexible range of weight management programmes for both men and women. We have successfully been helping people lose weight and keep it off, for over 30 years.
With your Consultant's one-to-one support, advice and encouragement, you will be able to find and maintain the body and confidence you deserve. Regardless of how much weight you want to lose, Cambridge Weight Plan has a range of flexible Steps, which will help you in a way that suits your lifestyle.

Cambridge Weight Plan products are delicious and provide balanced nutrition. Our products contribute to your Recommended Intake of essential vitamins and minerals, along with a balance of protein, carbohydrates and fats. This makes them perfect for providing an effective, sustainable way to lose weight.

We have a wide selection of tasty Shakes, Porridge, Smoothies, Savoury Rice, Pasta, Soups, Chewy and Crunchy Bars and Rice Pudding that you can choose from. We also offer you the choice of two delicious Ready to Drinks, which are perfect for when you are on the move.
don't
Struggle

to lose weight on your own
The Cambridge Weight Plan
is Here to Help!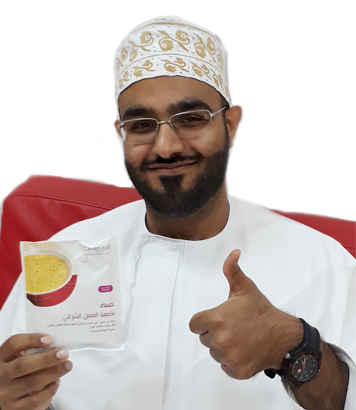 تجربتي مع كامبـردج لتخفيف الوزن
كنت من فترة اعاني من الوزن الزائد عن الوزن المثالي فبحثت عن مراكز التخسيس فوجدت مركز كامبـردج للتخفيف الوزن المكان المناسب لإنزال الوزن فإنني قابلت الاخصائية التغذية الانسة /نيلا سمبت فأنها شرحت لي الخطوات كيفية تتبع الرجيم وذلك بإستخدامي الاغذية البديلة المتوفرة في مركز كامبـردج وهي متعددة النكهات وتأتي مغلفة كالشوفان و السوب و الحليب المخفوق والسنتوب ولوائح الشوكولاته والجميل انه بأمكاني اخذ او اختيار الاغذية بنفسي حسب النكهات التي ارغب بها وانها وجبات جدا سلسة وسهلة الاستخدام وخاصة اثناء العمل و اثناء خروجي من المنزل فأني ركزت على اللوائح الشوكولاته و السنتوب الشوكولاته المفضل لدي ...
فبتدأت الرجيم وكانت بداية صعبة بالنسبة لي ولكن تخطيت المرحلة وانه يتطلب إلى القدرة العالية على تحمل ومن مميزات هذه الحمية انه لا يحتاج الى الالات الرياضية ... مجرد رياضة مشي لمدة لا يقل عن 45 دقيقة و استمريت على هذه الخطة ...وبفضل الاخصائية التغذية فقدت الوزن الزائد في خلال 4 اشهر وكان وزني قبل الابتداء الحمية 130كيلو جرام واصبح الان 100كيلوجرام وذلك بمتابعة من قبل اخصائية التغذية وانا مستمر لللاَن على هذا النحو محافظا على الوجبات الصحية حتى لا تؤثر على الوزن وانا جدا سعيد باختياري هذا المركز الكامبـردج للتخسيس الوزن.

تقبلو مني جزيل الشكر
زكريا بن يحي الوهيبي
مسقط
Find out more
Latest
events
Cambridge Weight Plan Oman Empowering the Special Athletes Team Of Special Olympics Oman - Muscat 23 September 2018
Copyright © 2017 Cambridge Weight Plan | All Rights Reserved | Powered by ADventz
Back To Top